iNNOVEX2018 Meetup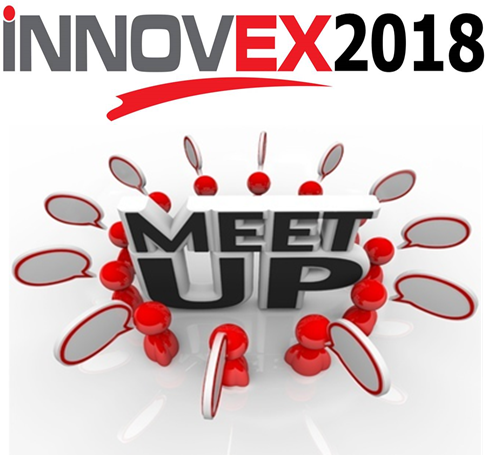 Profile

What is iNNOVEX2018 Meetup?

iNNOVEX2018 Meetup is a special meeting arena which will take place during iNNOVEX2018 – Israel's premier event on technological innovation.

iNNOVEX2018 Meetup allows large multinational companies to meet with young & innovative Israeli companies in a very fast and efficient process. These meetings could lead to cooperation between the companies in various forms including:
Open innovation projects

Joint development

Possible investment

Technology acquisition and more.
iNNOVEX2018 Meetup is done is cooperation with the Israel Innovation Authority.

How it is done?

Each multinational company that was invited to attend iNNOVEX2018 Meetup will go through the following four fast and convenient steps:

Step 1: The Company will define the most interesting sectors out of the 8 major sectors we plan to cover at iNNOVEX2018.

Step 2: Based on the selected sectors we will send each company's representative a list of potential young & innovative startup companies that expressed interest to meet with global leading high tech companies. Each multinational company could select meetings with up to 10 startups.

Step 3: After receiving the selected names we will set the meetings between the multinational company and the startups during iNNOVEX2018 Meetup session.

Step 4: At the day of iNNOVEX2018, each multinational company will have its own meeting table at the Meetup arena. Each meeting will last 7 minutes and then both sides will decide if they want to continue their discussion after the Meetup is over.
Topics of Interes:

These are the 8 main sectors we plan to cover at iNNOVEX2018 Meetup:
The Network of Everything (incld. Communication and IOT)

Cyber security and safety technologies

Medical devices and systems

Automotive and transportation applications

Internet & Social networks applications

Big data and cloud computing

Green technologies (incld. Energy saving, Foodtech, Agrotech, Precision Ag.)

Manufacturing and production (including Industry 4.0)

Who should attend?

Every major high tech company that is interested to identify innovative technologies and find proper partners should attended iNNOVEX2018 Meetup. These young partners could help the company to grow and leap into the next generation of technologies.

When & Where?

iNNOVEX2018 Meetup will take place during iNNOVEX2018 conference on February 7, 2018 at the AVENUE Convention center, Airport City, Israel . iNNOVEX2018 is expected to draw more than 2,000 engineers, industry professionals, academic researchers, senior executives and investors that plan to take part in iNNOVEX2018 in order to exchange ideas, learn about new development tools and listen to world innovation experts that will address the challenges in implementing creative ideas and invent new products.

How to be part of iNNOVEX2018 Meetup?

Please respond to the e-mail received from our representative or write to info@innovex.co.il. We will take care of all the rest.

We look forward to welcome you at iNNOVEX2018 Meetup on February 7, 2018.